June 28th, 2014
Day one of Art in the Village concluded. Good turnout, great weather. Everyone had a great time. Good interest in my art, so I'm happy. Great music on the stage so I was never bored when not engaged. If you are in Barnstable, Massachusetts tomorrow come on by. We are in various locations scattered around the Courthouse.
May 25th, 2014
Just walking the dogs this morning. They take up most of my attention. Keep them out of the ticks, stay away from that horse poo, don't run after that mtn. biker. But today there were the biggest lady slipper orchids I have ever seen and a couple of thousand baby blue crabs when we got to the edge of the bay. It would have been just as much fun without a camera, but if you don't have one, you can't shoot. I hope to have a few to share soon.
May 20th, 2014
I did my first Art Show this weekend in Hyannis on Cape Cod this weekend. It was sponsored by the Cape Cod Arts Association. This show was a little small but pretty well attended, given a few qualifiers. This was the first time for this particular show. They have a pretty good following and I would expect the traffic should pick up once people get this on their regular calendars. The weather was supposed to be pretty dreary too, but it wasn't. They had a live band, barbecue and buckets full of bubbles for the kids to run around with.

I sold some on site, and some more as follow up sales here on FAA. All around a good experiece. I hope to do a bunch more this summer. Maybe I'll see you there?
December 24th, 2013
Well, it took a week or two to troll through the many fine images I gathered in the Galapagos. It really is a "Target Rich Environment" for a photographer. Even the dark is beautiful and unspoiled there. Anyone who loves to photograph animals would love a trip there. They just go about their business. Since there is almost no predation at all and no hunting they treat other species as routine. They will give birth, eat, or leave their babies alone while you just stand there and watch.

You can get within 6 feet of Sealions, Iguanas, Booby's and all sorts of rare and colorful animals that have absolute trust that there is no danger in you. It's very humbling to compare that behavior to the other 99.999 % of the Planet and realize what we must be missing front the ones who know how dangerous we really are.
December 15th, 2013
Just back from a shoot in Ecuador's Natural Treasure. I have posted a few teasers but hope to have more this week. Stay tune for sealions, crabs, iguanas, and boobys!

http://fineartamerica.com/featured/galapagos-sally-lightfoot-crab-allan-morrison.html' size='20'>
November 4th, 2013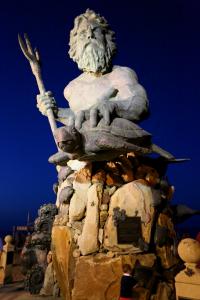 So with fall fading here in southeastern New England I set out through Rhode Island and Connecticut looking for some foliage still in peak. I hit the road around 4:30 a.m. from Cape Cod and headed south.

It was a really dark pre-dawn, between the lack of moonlight and the clouded eastern sky. I was in Providence before it became obvious that there were no rolling vistas of peak foliage to delight our viewers on FAA with. It took another 45 minutes or so for dawn to creep up so I headed toward the beach to get a sunrise. I found East Manunuck Beach and boy is that a sight. It is a beautiful barrier beach right on the open water south of Newport on the mainland side. The beach looks like it would be a nice place to spend a summer day with ample parking and nice facilities. See below for a sample of the view:




I also found a Great Blue Heron just down the coast from there. I found a beautiful inlet full of mist. The sun hid behind a cloud just as I pulled up so I set up and shot this Heron for insurance while I waited. It's a good thing I did. While I waited, he left. As the clouds cleared off it became apparent that the mist had lifted. Moral? Don't miss the insurance shot!




I had a nice morning and found a few places I had never been before. I did come home with a few keepers, so it was worth it.

Tune in again for Notes from my last shoot.

-Allan